Handspun wool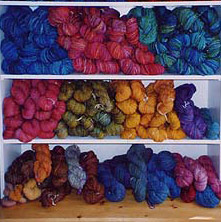 In this website you will find my unique ,100 % woolen yarn; all hand spun and all hand dyed

Sometimes you will find the wool mixed with fibers like alpaca, silk, angora or mohair but the yarn I create always stays 100% natural.

Since colors might look different on your computerscreen, it is also possible to receive a free sample of the yarn of your choice. So you can experience the true color and texture of this yarn before you make your order.
Please note: when larger amounts of wool are ordered, the weight per skein may vary, total weight will be what you ordered. Please include a note with your order if you prefer each skein to weight 50 grams.

---

Handspun wool :Off White Wool 2005
50 grams
€ 4.95
A nice warm white colour as nature intendend has

Hand-spun wool: Licht Jade-green 1985
50 grams
€ 4.95
Light Jade-green in beautiful overflowing jade colours

Handspun wool: Ocher tones 1919
50 grams
€ 4.95
Ocher tones. Colors ranging from soft brown to warm yellow

Handspun wool: Sparkling 1813
50 grams
€ 4.95
As a base a dark color, mixed with all kinds of color. A feast to watch.

Handspun wool: Orange 1938
50 grams
€ 4.95
Orange, the color of oranges and mandarin oranges. Delicious right!

Handspun wool: Mustard yellow 1917
50 grams
€ 4.95
Beautiful yellow color, but just not completely solid. That makes the wool extra fun

Handspun wool : BLUE 1867
50 grams
€ 4.95
A calm blue color, with some light nuances here and there.

Handspun wool : Wintergreen 1963
50 grams
€ 4.95
Different shades of green with glitter. As if there are crystals on the Wintergreen
Handspun wool : Light gray 2002
50 grams
€ 4.95
Beautiful light gray wool. A pure natural color

Hand-spun wool: Red wool with sari-silk 1873
50 grams
€ 4.95
Red wool mixed with sari-silk. The silk makes the wool soft and give beautiful color accents

Hand-spun wool: Ecru 1990
50 grams
€ 4.95
A nice lihgt shade, but not completely solid, because of some yellow and soft apricot colors

Handspun wool: Light purple 1998
50 grams
€ 4.95
Light purple wool with sari silk. The silk makes the wool soft and gives color accents

Hand-spun wool Lilac 1997
50 grams
€ 4.95
Lilac with few shades, but a little color difference that makes it nice
Hand-spun wool: Purple 1843
50 grams
€ 4.95
Hand-spun wool in a purple color. The pink/purple shades make it a cozy whole

Celadon-green
€ 4.95
A very special colour of green and blue green, with subtle shades of violet