Studio for Gobelin-weaving and handspun wool.
The name"De Sloep" stems from a stained-glass window, situated on the side of the house.

Atelier "De Sloep"
Wilhelminalaan 4
1861 LR Bergen (N.H.)
Netherlands
Telefoon: +31 72 58 12 968
E-mail:info@atelierdesloep.nl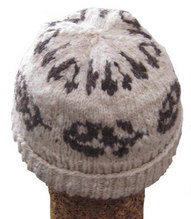 New handspun wool in the online store. Knitted bonnet with white wool with a rose motif.